J1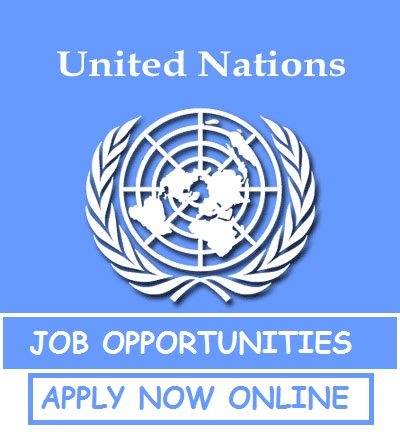 Communications Intern - World Food Programme(WFP)
ABOUT WFP
: The United Nations World Food Programme is the world's largest humanitarian agency fighting hunger worldwide. The mission of WFP is to help the world
achieve Zero Hunger
in our lifetimes. Every day, WFP works worldwide to ensure that no child goes to bed hungry and that the poorest and most vulnerable, particularly women and children, can access the nutritious food they need.
JOB PURPOSE
: The Communications Unit of WFP Tanzania aims to enhance public awareness and understanding of WFP's work in the country to both local and international audiences. It works to improve brand recognition through both conventional and non-conventional avenues of communication to appeal to as wide an audience as possible.
Read Also:
THE LIST OF NEW
OPPORTUNITIES
(149+ POSTS
KEY ACCOUNTABILITIES (not all-inclusive)
WFP Tanzania is seeking to recruit an Intern to support its Communications Unit.Under the general supervision of the Head of Communications, the Intern will perform the following duties:
Perform translations from English to Kiswahili and vice versa
Assist with media events including photography, videography and logistics
Produce content for print and social media, including Twitter and Facebook
Scan local newspapers daily for coverage of relevance to WFP
Track local and international news on issues of relevance
Liaise with other UN communication officers for joint activities
Respond to information requests from various sources
Compile donor and other reports
Manage and maintain records and databases
Assist with the dissemination of publications
Assist with administrative tasks
Travel up the country as needed
STANDARD MINIMUM QUALIFICATIONS
Masters Degree in Journalism, Political Science or Mass Communication. Bachelors Degree in the same areas will be considered if the candidate has relevant work experience
ONLY applicants currently enrolled in graduate school or have graduated from BA or MA programme over the last 12 months can apply.
DESIRED EXPERIENCES FOR ENTRY INTO THE ROLE
Work experience in journalism or public affairs will be an advantage.
Proven experience in translation from English and Kiswahili and vice versa
Experience in writing, editing and proofreading will be an advantage
OTHER SPECIFIC JOB REQUIREMENTS
Excellent knowledge and understanding of social media trends. Proven writing and editing skills (report, creative writing, media) in English and Kiswahili. Photography and videography skills. Demonstrated working knowledge of Windows computer applications (Word, Excel, PowerPoint, Publisher). Knowledge of social and political situation in Tanzania and East African region. Ability to perform multiple tasks. Good interpersonal skills,team spirit and attention to details.
FUNCTIONAL CAPABILITIES
Demonstrates ability to respond media and influencers within own scope of responsibility to raise the profile of WFP, build relationships and further organisational aims.
Collates accurate and timely information presented in required format (i.e. written or visual materials) as well as verbally, to enable information flows and informed decision making on communications issues. Exhibits specialised technical knowledge of communications channels processes, tools and techniques. In immediate area of responsibility, provides support in developing written, visual, audio and multi-media content for communications materials and suggestions for improved communications processes.
Shows awareness of the multilateral/interagency environment and the dynamics in which WFP operates which informs approach to daily tasks. Demonstrates sound understanding of WFP communications strategy and effectively implements tailored media and communications plans which support the delivery of the strategy.
TERMS AND CONDITIONS
Interns receive a monthly stipend from WFP.
WFP is not responsible for living expenses, arrangements for accommodation and related costs
Open to Tanzania citizens only.
DEADLINE FOR APPLICATIONS
The application deadline is 20th October 2018.
Female applicants are especially encouraged to apply
WFP has zero tolerance for discrimination and does not discriminate on the basis of HIV/AIDS status.
--------------------------------------------------------------------------------------------------------------------------
UNHCR
The United Nations High Commissioner for Refugees (UNHCR) Field Office, Kasulu invites qualified internal/external candidates to apply for the following position:
Vacancy Notice No: TANKS/VN/18/007
Assistant Livelihoods Officer
Kasulu Tanzania
25th October 2018
Start Date: 1st January 2019
Grade: NOA
Duties and Responsibilities
Under the direct supervision of the protection officer (community-based) and the overall supervision of the Head of Field Office Kasulu, the incumbent will undertake the following responsibilities:
Accountability:
UNHCR's country operation receive sufficient support in the field of livelihoods, thus better able to meet the needs of persons of concern.
Responsibilities
Support the completion and rollout of e sustainable livelihoods strategy and provide technical guidance on the design and implementation of livelihood programmes.
Provide technical assistance to the development of UNHCR's and IP's livelihoods projects within the framework of an approved strategy.
Develop a good working relationship and collaboration with development actors and micro-credit or micro-finance institutions necessary for the development of business opportunities to refugee and host
Develop a system of monitoring and keeping track of the progress of project implementation to measure the impact on the well-being of refugees.
Participate in assessments as a member of a multi-functional team. Identify opportunities and solutions to challenges identified during assessment such as access to formal employment, vocational training, and micro-credit and advise on means to maximize the local livelihood resources and social infrastructure
Explore and develop a partnership with NGOs, Government line ministries, training institutions, UN agencies and most importantly the private sector. Proactively seek new opportunities for effective partnership building and resource mobilization amongst donors
Promote cooperation with national institutions, including the Social Development Fund, in supporting income generation activities and access to microfinance for refugees.
Review project propels submitted by partners in line with UNHCR Policies and guidelines.
Maintain updated information on issues and policy changes that may affect livelihood opportunities for refugees. and ongoing measures by the Government and other institutions that can affect or contribute to the achievement of strategic goals for refugee livelihood.
Enforce livelihoods strategies and guidelines
Represent UNHCR in meetings and missions
Essential & Desirable Minimum requirements
Education:
Undergraduate degree (equivalent of a BA/BS) in Economics, Business
Administration, Social-Economic Development, Rural Development, Financial Management or other related fields.
Work Experience
Minimum 1 year of previous work experience relevant to the function.
Technical competencies in sub-sectors relevant to livelihoods programming e.g. microfinance, employment, entrepreneurship, private sector development, local economic development, poverty reduction, agriculture, livestock, vocational and technical education, and training, etc.
Experience in working effectively with the private sector, international and national NGOs and UN organizations and with government authorities at the national level
Knowledge of local Institutions
Excellent knowledge of English.
Desirable qualifications and competencies
Completion of the UNHCR Protection Learning Programme (PLP) and/or the Operations Management Learning Programme (OMLP)
Experience with UNHCR standards and indicators, and/or projects related to the millennium development goals.
Knowledge and exposure for the social and cultural values or the region concerned
Proficiency in local languages
Knowledge of additional UN languages
Job application procedure
Interested candidates should express their interest by completing the attached Personal History Form and the Supplementary form if needed in full. Please quote the vacancy Notice Number and Position title
The Expression of interest for the position should be sent by email to:
Head of Field Office
UNHCR Field office
Kasulu
Email:
tanksva@unhcr.org
J2